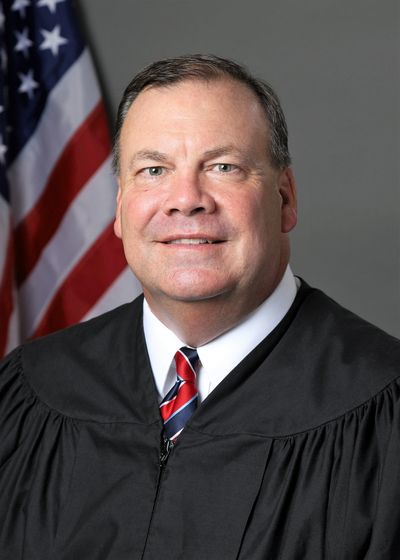 The Honorable Judge Kevin W. Dunn was introduced by David Sheldon, Rotary Program Chair, to Medina Sunrise Rotary this morning. The judge provided the Rotarians with an overview of what is going on at the courthouse, including an update on construction of the new court facilities due for completion in 18 months.
Judge Dunn has been presiding over the Medina County Court of Common Pleas Probate and Juvenile Divisions since August 2013, upon being appointed by Governor John Kasich. The Judge was elected by Medina County voters to continue his duties serving justice in Medina County from "birth to death and beyond," in the position and began his six-year term, February 2015. After receiving his Bachelor of Arts at Miami University in Oxford, Ohio, Judge earned his Juris Doctorate at the University of Akron School of Law. Judge Dunn was previously in private practice for twenty-two (22) years. During that time, he represented numerous clients in civil and criminal matters, estate planning, and corporate-related proceedings. He also served as prosecutor for the City of Medina and as acting Judge for the Wadsworth Municipal Court.
Judge Dunn is a member of the American Judges Association, National Probate Judges Association, Ohio Judicial College, Ohio Juvenile Judges Association, Ohio Probate Judges Association, The Ohio State Bar Association, and Medina County Bar Association. Judge has also been a presenter at several Continuing Legal Education Seminars, serves as a professional consultant for the government section of the American Legion Buckeye Boys State, and regularly attends conferences for legislation review.
The Judge, a proponent of juvenile rehabilitation and drug court, has also been involved in numerous community organizations including Rotary Club of Medina, the Greater Medina Chamber of Commerce, Red Cross, youth sports, and is a parishioner at Sacred Heart Church in Wadsworth, Ohio. Judge Dunn and his wife have two (2) adult daughters, and reside in Westfield Center.
Medina Sunrise Rotary has served Medina County for 27 years, making the community a better place for children. To learn more, please visit: www.medinasunriserotary.com.